Surgery for Breast Cancer
PAGE 2
Written by : Dr.M.D.Mazumdar, MD
Lumpectomy:Advantages and Disadvantages
Lumpectomy has its own advantages and disadvantages.
Advantages of Lumpectomy

The main advantage of a lumpectomy is that it can preserve much of the appearance and sensation of the breast especially if the tumor is small. Very often, a breast reconstruction surgery may not be needed at all.

Disadvantages of Lumpectomy

Lumpectomy needs to be followed by 4-6 weeks of radiotherapy.
The time taken for radiation may delay breast reconstructive surgery.
Risks of cancer recurring in the remaining part of the breast is high.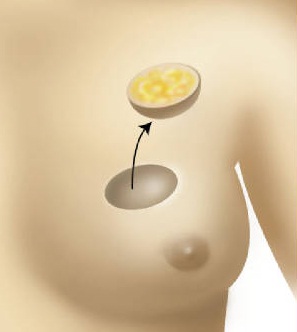 Mastectomy:Advantages and Disadvantages
Advantages of Mastectomy

Complete removal of cancer cells is easier.
Most patients say that they are relieved at getting all the cancer cells out.
Risks of recurrence are lower than in lumpectomy.

Disadvantages of Mastectomy

Mastectomy means a permanent loss of the breast.
Since the surgery is more extensive, it takes a longer time for recovery. Post-operative care is also longer and recovery may be more difficult than in lumpectomy.
Breast reconstruction or wearing a prosthesis is necessary.
See Page 1 for:
Types of Breast Cancer Surgery:Conservative and Non-conservative